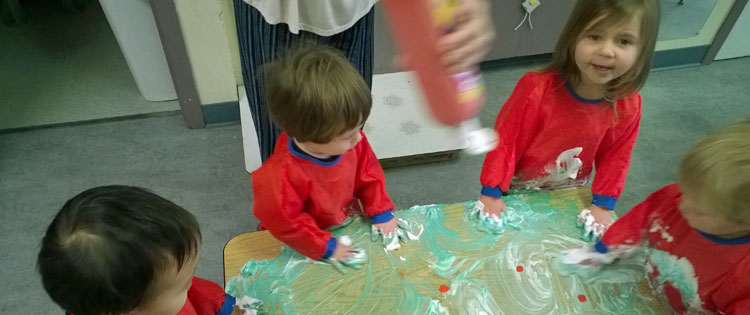 Program Details
The Presbyterian Preschool and Child Care Center is a non-doctrinal outreach program of the First Presbyterian Church of Corvallis. The program is a 501(c)(3) qualified private school. The center provides 51 weeks of education & care each year, Monday through Friday 7:00 a.m. to 5:30 p.m.
There are five classrooms that are large, open and well-furnished. The center has access to an indoor play area and a backyard fenced playscape area. The preschool children use the Central Park playground across the street from the center.
Program Options
The infant/wobbler/toddler program offers half-time (25 hrs/week) or full-time care up to five days per week for children 3 to 30 months.
The preschool program offers half-time (25 hrs/week) or full-time care up to five days per week for children 2.5 – 5 years.
For prices, call 541-753-7752
Guidance is positive to help a child develop self-control and learn problem solving skills. Our staff concentrate on knowing each child's temperament and interests at their age and stage of development. Positive guidance steps for learning include distraction, redirection, and encouragement. To ease transitions, children are given advance notice prior changes in activities.
As contractors under the USDA Child and Adult Care Food Program (CACFP), we provide a daily nutritious breakfast, lunch and afternoon snack.
This institution is an equal opportunity provider and employer. "In accordance with Federal law and U.S. Department of Agriculture policy, this institution is prohibited from discrimination on the basis of race, color, national origin, sex, age, or disability.
---
Daily Schedule includes:
Warm greeting: Upon entering the classroom the teacher helps start the daily routine with a warm greeting and a check in
Exploratory classroom and free choice play time: Toys for fine and large motor development, dress-up corner, dramatic play area, water play, sensory table, building blocks, reading center and science center.
Circle Time for Preschoolers: calendar, weather, discussion, games and music.
Breakfast, Lunch, PM Snack: Nutritious food is prepared daily on-site using basic ingredients. All of the children develop social skills while preschoolers enjoy family style meals learning manners and how to self-serve.
Large motor activities morning and afternoon, at least 60 minutes/day: in our indoor play area, fenced backyard and/or Central Park.
Storytelling and reading, music and singing, movement and dancing: Large and small group story times, individual reading opportunities are part of each classroom.
Nap Time or Short Quiet Time:
Infant naps are on individual schedules.
Wobbler, Toddler, Younger & Older Preschoolers nap or rest after lunch up to 1 1/2 hours.
Prekindergarten classroom relaxes with quiet time from approx. 2:00 – 2:30 p.m.Some children may nap.
Goodbye: written observations for Infant/Wobbler/Toddler and verbal updates for preschoolers.
---
Curriculum Emphasis in our Program
State approved SPARK curriculum used: High Scope and Creative Curriculum are used for program planning. Science centers and activities foster curiosity, discovery and the desire for exploration with documentation. Examples of activities are cooking and gardening.
Multiple languages are spoken by both staff and families. Language is integrated into our program so that children are exposed to new vocabularies and new sounds. Culture sharing is a valued and important part of the learning process.
Art is an opportunity for self-expression, creativity and experimentation. Small muscles are developing as the child learns to handle paint brushes, crayons, pens, glue sticks, pencils, etc. The emphasis is always on process not product.
Dramatic Play provides an opportunity for role play and for promoting social and language skills.
Literacy skills, both in oral and written stories, are integrated throughout the classrooms.
Music is explored through singing, dancing, listening to many music genres and guest musicians. Regular opportunities to play multiple types of rhythmic musical instruments both indoor and outdoor.
---
Parents and Programs
Parents are encouraged to observe their children through the one-way glass in each classroom door and parents have access to their children at any time.
Our staff communicate daily with families through daily conversations, written documentation, newsletters and scheduled conferences. Teachers provide observations regarding each child's individual temperament, growth and development through individual portfolios.
Activities and resources for parents include:
Unannounced visits or pick-ups
Family Dinner NIght and Family Game Nights
Informal parent get-togethers in Park
"Special Guest" parent visitation opportunities
Access to children's books & parenting books and church library
Parent participation for projects and fundraising events are required
Serve as an advisory board representative as volunteer choice
Year-end preschool graduation celebration
---
Meals
The center offers a breakfast, hot lunch, and an afternoon snack. The infant room provides organic baby food (as able) and formula as an option. Nutritious food is prepared daily on-site using basic ingredients. Chicken, Turkey, Tuna or a vegetarian option are part of the menu. Food is provided with no added high-fructose corn syrup or trans-fat. The meals are included in the monthly tuition fees.
Tuition fee includes all classroom supplies. We offer free and reduced meal service to eligible children through the USDA Child and Adult Center Food Program.
In accordance with federal civil rights law and U.S. Department of Agriculture (USDA) civil rights regulations and policies, this institution is prohibited from discriminating on the basis of race, color, national origin, sex (including gender identity and sexual orientation), disability, age, or reprisal or retaliation for prior civil rights activity.
Program information may be made available in languages other than English. Persons with disabilities who require alternative means of communication to obtain program information (e.g., Braille, large print, audiotape, American Sign Language), should contact the responsible state or local agency that administers the program or USDA's TARGET Center at (202) 720-2600 (voice and TTY) or contact USDA through the Federal Relay Service at (800) 877-8339.
To file a program discrimination complaint, a Complainant should complete a USDA Program Discrimination Complaint Form which can be obtained online at: https://www.usda.gov/sites/default/files/documents/usda-program-discrimination-complaint-form.pdf, from any USDA office, by calling (866) 632-9992, or by writing a letter addressed to USDA. The letter must contain the complainant's name, address, telephone number, and a written description of the alleged discriminatory action in sufficient detail to inform the Assistant Secretary for Civil Rights (ASCR) about the nature and date of an alleged civil rights violation. The completed AD-3027 Complaint form or letter must be submitted to USDA by:
mail:
U.S. Department of Agriculture Office of the Assistant Secretary for Civil Rights
1400 Independence Avenue, SW
Washington, D.C. 20250-9410;
fax:
(833) 256-1665 or (202) 690-7442; or
email:
program.intake@usda.gov.

This institution is an equal opportunity provider.